Cutting machine for bushes and small
ball trees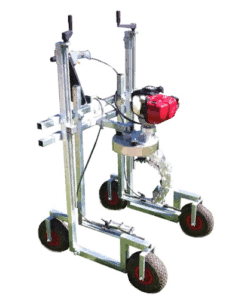 If the trimme machine Rap 10 is the entry level trimming machine to begin to appreciate the advantages of the machining operations, it's the best solution make uniformity of the production, more you can use less and less skilled labor force.
The natural evolution trimme machine Rap 11 is more spacialist machine because in addition to the rap 10 it have two blocks more to cut up to 50 cm of diameter.
The cutting unit can be raised up to 1,20 cm to cutting small trees.
It's equipped with pliers stops stems / pots to facilitate pruning in conditions of little pots that could turn under the knife or to perfectly center crooked trees.
It combines the qualities of:
easy to use,
consistent performance,
quality of work,
low running cost
make the trimmer machine Rap 11 the best solution for standardization of ball forms of plants, little trees and bushes growing in pots and in fields.
The execution speed of the pruning, up to 400 plants / hour, saves time and labor for the finishing operations. Delicate operation that normally requires highly skilled and qualified labor.
The advancement of the machine is to pushed while the rotation of the head and of the blade is moved by an electric motor or internal combustion 4 stroke, placed directly on the top of cutting system for a correct balance of the machine.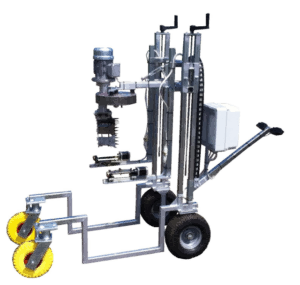 The speed of rotation of the cutting head is adjustable through inverter on the electric version for optimal quality of the cut.
The pruning machine frame is adjustable on height and on width to the climb over more of plants or flower pots lines.
TECHNICAL FEATURES:
Adjustable frame: Width from 40 up to 90 cm., Cutting Height from 0 up to 120 cm.
Spherical cutting unit: adjustable unit from Ø 15 up to Ø 45 cm with 5 cutting blocks.
Engine: Electric engine 230V. in control panel with speed rotation control by inverter or with 4 Stroke engine Honda 45 cc.
Productivity: Up to 400 plants / hours.
Watch the video on youtube.
Cutting machine Rap 11
ultima modifica:
2017-02-02T19:04:17+01:00
da