Automatic trimming machine for plants in trays.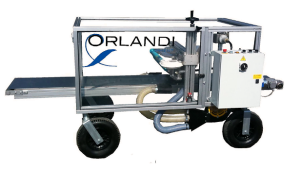 Trimming machine Rap Eazycut 500
Flexible machine, applicable for trimming ornamental plants and herbs of variable heights.
The transport system brings the plants directly to the shear blade.
The cut plant parts will be collected undamaged via EazyCut system.
The cutting height remains constant.
FEATURES:
Frame: Aluminium frame on wheels, height adjustable with a variable cutting system of high precision between 0 and 40 cm and a protection grill agreeable to the CE standard.
Engine control: Control box with 220 V power supply to regulate the cutting velocity. Blower and plant conveyance inverter operated.
Crop: Self-sharpening shear blades EazyCut500 with a usable cutting length of 50 cm.
Collecting of the cropped parts: Via blower and conveying system made of stainless steel.
Plant conveyance: Via belt on a conveyor band or via motor-driven rolls.
Efficiency: Up to more than 1000 trays per hour.
Hits: 2
EazyCut RAP 500
ultima modifica:
2013-08-24T12:02:43+02:00
da